That Outfit!

This is an outfit she has worn a few times like an awards show, the Borrowed Heaven documentary and the Borrowed Heaven EPK. This is probably one of my favorite outfits that Andrea has worn and I have no clue as to who designed the skirt (believe me, I've looked and looked!). But I will create an outfit sort of like Andrea's but an outfit that would suit me and my personality. Perhaps this will give you some ideas on sort of things you might like. It's all about discovering your inner-style. ;)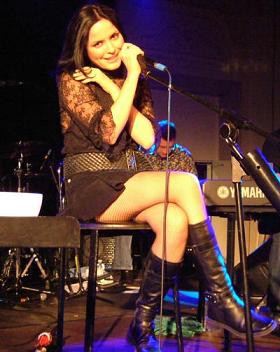 I have always loved the lacey mesh tops...very Victorian era. The wardrobe I am going to create was inspired both by Andrea (at this gig) and Sharon (at the Wetten Dass interview and performance). I have had this nice black dress that I have never worn and never thought looked well on me. But I have had a black Lux dotted mesh top so I tried it on over and it looks great, it even looks slimming on me. So I popped on my black Old Navy wedges and I was ready to go...except I had nowhere to go...sigh.
Fashion Don't?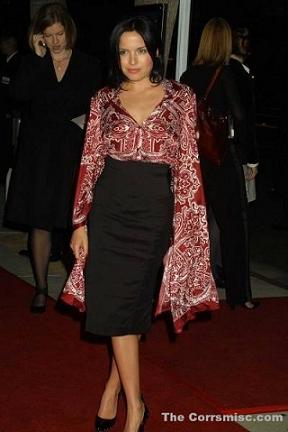 Andrea, seen in this outfit, has been critiqued by Us Magazine's Fashion Police as being a mistake...often critisizing her on her large bird-like sleeves. I don't know who the designer is but all I can say is that Andrea looked absolutely LOVELY at the "In America" premiere. The colors mesh very well and the top goes fabulous with her rosy cheeks, fair skin, and dark hair. The skirt gives her great curves and the shoes elongate her body giving her a more sophisticated look. There is no mistake in this outfit.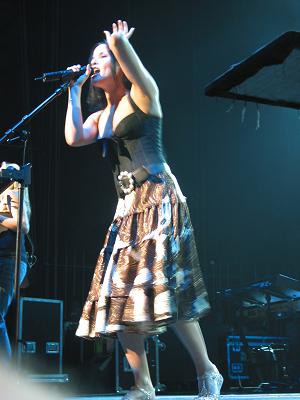 Sequined circle skirts are in nowadays, as well as tiered..the hot items for the summer. Senorita Andrea certainly bestows both of these in this Moschino tiered, sequined circle skirt. Let's find something for ourselves, shall we?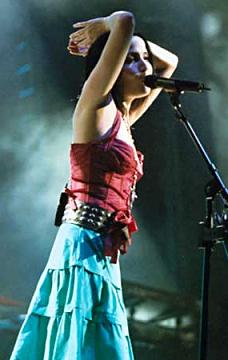 I could probably go on and on and on on ideas that are inspired by our favorite performer. But this is just a sample of ideas that I hope have helped you re-think that wardrobe of yours for the summer. ;)
Andrea is my fashion icon...and not because I want to wear the exact outfits she wears but because she has inspired me to be myself and wear clothes that express who am. There are times where I do want to dress like Andrea but that would mean losing identity!

Now I am going to put together an outfit inspired by that of Andrea's on the left. It isn't going to look exactly like hers, instead it'll exemplify my own style. I really like to mix and match so that may not be what others had in mind. But take heart that these are the sort of outfits that would fit my personality!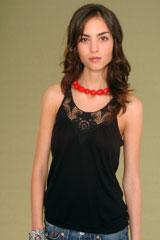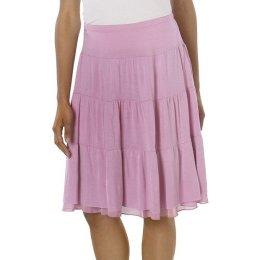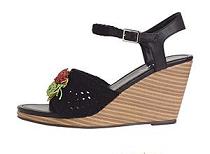 Top: Urbanoutfitters
Skirt: Target
Wedges: Delias
Andrea wore boots with this outfit and they looked great, but since Summer is around the bend, and this is a summer outfit, then it would be perfect for when you are planning to go out on a hot day.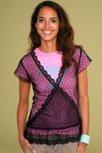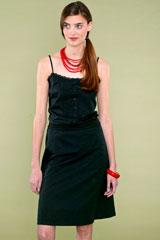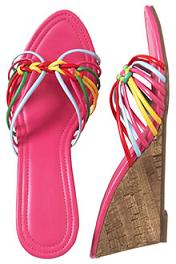 Lux Dotted Mesh Top: Urban outfitters
Dress: Urban outfitters
Wedges: Old Navy
The dotted mesh top isn't available anymore on UrbanOutfitters, but you can probably find something similar elsewhere. I have black Old Navy wedges but I think that the colorful ones would look just as cute if not cuter, especially if you want a slightly casual look. The black wedges give off more of a sophisticated conservative look but the multi colored ones are fun.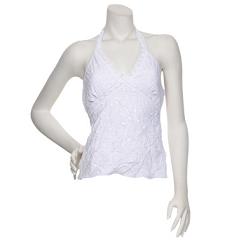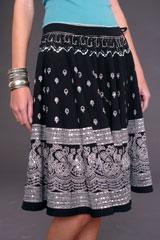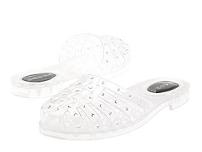 White Cotton Cami: Wet Seal
Sequined Circle Skirt: Urban Outfitters
Nana Didi Rhinestone Jellies: Zappos or lovemyshoes.com
You can also find loads of different sequined circle skirts at forever 21. The rhinestone jellies are sort of what Andrea wore during the Borrowed Heaven tour. The Nana Didi jellies come in many different colors! I own two pairs!